Pier Arjen de Groot
painter - sculptor
1905 - 1995
Breukelen, Saturday June 6th.
Rosemarie, daughter of the life partner of artist Pier Arjen de Groot visited the gallery with her cousin.
Since the passing of her mother, Roos administers the work left by Pier Arjen de Groot. Pier received his art education at the "Rijksacademie voor Beeldende Kunsten" (State Academy of Arts) in Amsterdam under the tuition of Anton Derkinderen en J. Jurres, initially studying drawing and painting. Later on he studied sculpting under the guidance of, among others, sculptor H.M. Hagendoorn in Voorburg.
The fact that the "Rijksmuseum" in Amsterdam has a copy of all his etchings in the Museum's collection is a clear indication of the quality of Pier's work.
Roos showed me a number of photos of portrait paintings and of some bronze sculptures. The paintings are not for sale. Of each of the seven sculptures three castings will be available for purchase from a limited edition of four.
Two days later we went to have a look and spent a pleasant afternoon at Roos' residence. The sculptures are simply beautiful, finished in various patinas. Graceful flowing female forms without any sexual overtones.
The sculptures were created in the late forties.
My fiancé Teem and I instantly fell in love with the same sculpture.
This is fantastic. Whilst talking to Roos we arrive at a decision to organize an exhibition of the work of this artist, featuring both paintings and sculptures, complemented with other items from his atelier so as to recreate an authentic atmosphere.
However, none of the paintings will be for sale. Everything was sold at the time, and what remains stays in the family. The sculptures on the other hand are for sale, and I believe all will be sold. Not only is this a rare opportunity for me to show something exceptional; it is an opportunity for visitors and regular clients of the gallery to purchase something of beauty and value. Anyone who sees and touches these sculptures will agree.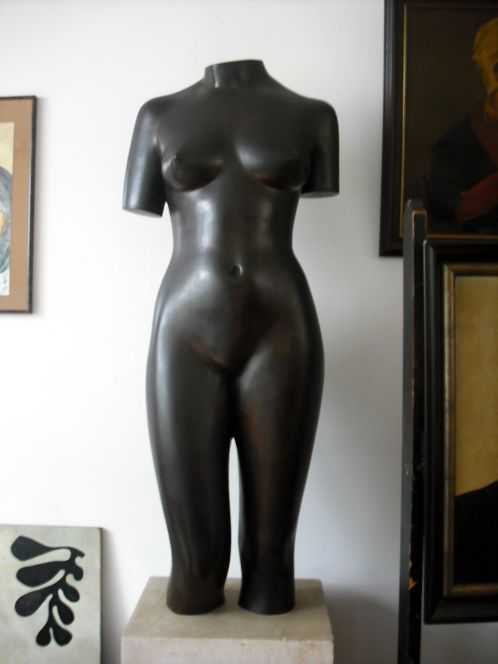 "Pier Arjen de Groot was the second husband of my mother, Anna Sophia. I first met him when I was sixteen and it was love at first sight. He taught me how to play billiards and drink gin in the pub in Stavoren; he showed me how to eat Herring, Sprat and Mussels and how to make fish out of sculptor's plaster. The music he loved so much had me spellbound, as did his countless stories and jokes. He enriched my life. Pier and Anna loved each other dearly and this love engulfed them in everything. Now, years after they both passed away, it gives me great pleasure to have the opportunity to show his work in the beautiful gallery owned by Peter Leen who shares my admiration for Pier's work."
Rosemarie Dooijes, 18 juni 2009

For an invitation to the exhibition on September 13th, or to enquire regarding availability of remaining sculptures, please email: